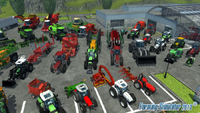 This is an overview of equipment available in the game. Most equipment attaches to the rear or front of a tractor .
See the Vehicles article for a summary of tractors and other vehicles.
A Tipper (also known as a trailer) is a wagon that attaches to a tractor and is used to move crops or equipment around. See also the Transport Vehicles article for vehicles built specifically for this purpose.
Potato Harvesting
Edit
Beet Harvesting
Edit
Cultivators
Edit
Cultivators prepare a harvested field for sowing.
Plows turn up soil and create furrows in preparation for cultivating. In game, plowing is the only way to remove grass from your field or anywhere else. With plows, you can also expand your fields. Plowing is unnecessary for fields that are recently purchased, or have been harvested from.
Sowing Machines
Edit
Fertilizer Spreaders
Edit
Spreaders distribute chemical fertilizer by scattering pellets across the field.
Sprayers distribute chemical fertilizer using extended arms that spray the field.
Manure Spreaders
Edit
Manure is a natural fertilizer produced by cows.
Slurry Tanks
Edit
Slurry is a natural fertilizer made of the liquid manure produced by cows.
Windrowers
Edit
Loading wagons
Edit
A loading wagon can be towed by a tractor to pick up freshly mowed grass, hay or straw. They can also be filled with chaff if working along forage harvester.
Bailing Technology
Edit
Balers are used to pick up and press hay and straw into easily transported and stored packages called bales.
Feeding Technology
Edit
These machines are used in cow feeding.
Weights are used to properly balance tractors that have heavy loads attached to them. Using them will improve tractor's handling and top speed.