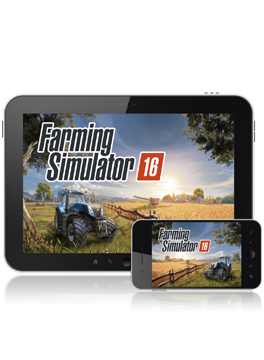 Farming Simulator 16 was released on August 5, 2015 on Android and iOS, designed for mobile platforms. The game replaced Farming Simulator 14 as the mobile version of Farming Simulator.
Description
Edit
Farming Simulator 16 allows you to manage your own realistic farm in extraordinary detail. Plant, grow, harvest, and sell five different crops, raise cows and sheep, and sell timber at your own pace. Buy new fields to expand your farm land. Take direct control of harvesters and tractors, or hire AI helps and manage your growing farm from the full screen management map.
As the newest in the series of Farming Simulator games, this game has the best of agriculture simulation. The game features massive tractors and other machines from over 20 brands of agricultural manufacturers, including New Holland, Case IH, Ponsse, Lamborghini, Horsch, Krone, Amazone, MAN and more.
New 3D graphics show even more detail on your machinery!
Plant and harvest five different crops: Wheat, canola, corn, sugar beets, and potatoes.
Feed your cows and sheep to produce and sell milk and wool.
Forestry has gone mobile! Harvest wood with dedicated machinery and sell the timber.
Hire AI helpers for better results.
Play with a friend in local multiplayer mode for WiFi and Bluetooth.