Farming simulator 19 features two maps as part of the base download and one DLC-map released in Alpine Farming Pack: Erlengrat, Felsbrunn and Ravenport.
Erlengrat
[
]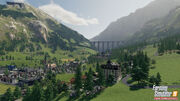 Erlengrat is the map in the Swiss Alps when released in Alpine Farming Pack. The map is a mountainous grassland, with the starter vehicles provided by new companies. Erlengrat has a Felsbrunn-styled train, a local church, 25 fields, new companies Liechti Chocolatier, Kraft Landmaschinen AG (Shop), Gasolino (Gas station), and Kaserei Erlengrat (Cheese Factory).
Felsbrunn
[
]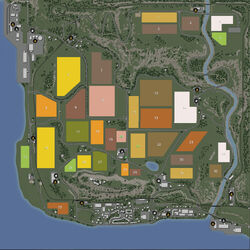 Felsbrunn is a European-style map based on the near-Alpine regions of Germany. The map is hilly, with most farm plots set on slopes, as well as many winding roads and paths. The map is dominated by a large hill near the center, topped with a ruined castle. It features a large number of small fields as well as multiple mid-sized fields.
Ravenport
[
]
Ravenport is an American-style map modelled after the Southwestern United States region of South California. The map is relatively flat, with mostly gentle rolling slopes. The map features a handful of massive fields and a handful of smaller ones for starting off.
Its primary feature (a port) has no factory connected to it unlike other FS19 maps, and the map has a relaxed feel overall, however some areas of the map are hard to navigate or access.
There is a flat space near the store which allows a farm to be closer to the center of the map. It includes a small town with a machinery dealer and a local gas station, supplies shop, supermarket etc. Heading westwards out of the town, you will hit the motorway heading northwards, which according to signage, leads to Goldcrest Valley.
It is larger than Goldcrest Valley, though has equal sell points and a train which circles around the map.
Other details like stilt houses, a basketball court, a boardwalk, lighthouse, horse riding trails, and a ranch are a nice touches over all and make Ravenport the most detailed American map so far, compared to other American maps such as Westbridge Hills or Goldcrest Valley.
There is very little forestry on this map, due to the emphasis on fieldwork. Due to this, trees need to be planted manually.
External Links
[
]