Farming Simulator 22 features 3 new maps with the return of Alpine Farming Pack DLC Map from Farming Simulator 19: Elmcreek, Haut-Beyleron and Erlengrat.
Elmcreek
[
]
Elmcreek is a map located in midwestern USA. This map features new types of fields and barn where forklifts can go as well as some new features. Elmcreek has Ravenport-styled terrain, a big tower with "Elmcreek" written on it, 82 fields, and new factories: Grain Mill, Carpentry, Spinnery, Tailor Shop, and more.
Haut-Beyleron
[
]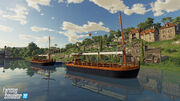 Haut-Beyleron is a map located in the southern France. This map is hilly with hot air balloons and catapult. This map has 48 fields; this is also good map for Grapes and Olives. It has big as well as small fields.
Erlengrat
[
]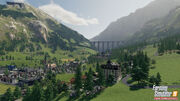 Erlengrat is the map in the Swiss Alps as released in Alpine Farming Expansion(FS19) and is in FS22. This map is a mountainous grassland with the starter vehicles provided by new companies. Erlengrat has a Felsbrunn-styled train, a local church, 25 fields, new companies including Liechti Chocolatier, Kraft Landmaschinen AG (Shop), Gasolino (Gas station), and Kaserei Erlengrat (Cheese Factory).

Media
[
]
Videos
[
]