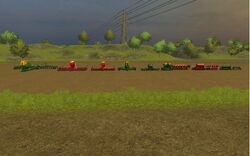 A sowing machine is a device that plants or sows your crops. It digs a furrow, places the seed or seeds in to the furrow, then covers it. The seed for wheat, barley, canola and grass is much smaller than corn, sugar beet or potato seeds. These larger seeds are planted using a seed drill. Corn and sugar beets share a seeder, and potatoes need their own seeder.
Experience shows that 1000 litres of seeds are used per hectare. Knowing this, you can calculate more precisely the surface of your expanded field by dividing the number of seeds you used by 1000 and you have the surface in hectare. Example: I enlarged and joined field 15 and 16. I used 1454 litres of seeds so now, my field 15-16 measures 1.454 hectares.
Tip: Among sowing machines, some are dual-purpose; they cultivate and sow at the same time. With dual-purpose sowing machines, you can plant new crop directly after harvest. Since the soil must be cultivated after each harvest, the dual-purpose machine will save you vast amounts of work.
Comparison table of sowing machines
Sowing Machine
Price
($)
Working width
(m)
Capacity
(litres)
Maximum
working
speed
(mph)
Maintenance
($ / day)
Dual-purpose
Wheat
Barley
Canola
Grass
Corn
Sugar Beet
Potato

4,500
2.1
250
19
5
No
X

11,500
3
600
19
10
No
X

23,500
3.15
2650
19
25
No
X

26,300
3
1500
19
30
Yes
X

33,970
6
3975
19
35
No
X

35,600
3
2000
19
30
No
X

58,000
6
1460
29
110
No
X

62,300
6
3600
29
80
Yes
X

88,000
8
4000
29
90
No
X

97,000
9
4000
29
100
Yes
X

155,000
15
8000
29
180
Yes
X

2,750
2
100
29
10
No
X
X

85,000
9
9000
29
130
No
X

52,000
6
2396
29
80
No
X

79,000
6
4050
29
60
Yes
X

35,000
3
3100
29
30
Yes
X