Requires: cultivator, seeder, harvester with a header for grain;
Usage: as food for: chicken and pigs, chaff for compost (after using a special harvester);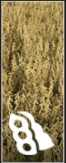 Special characteristics: StrawMe (MOD) leaves straw which can be collected - you can either sell it or use for animal bedding (pigs and cows). After that, the animals will produce manure. Soybean can be sowed by almost every seeder and planter.
Community content is available under
CC-BY-SA
unless otherwise noted.