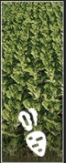 Sugar beet are root crops. In Farming Simulator 19 they have a very high yield of nearly 100,000 liters per hectare. In addition, they require the use of special machines that are not among the cheapest and capacious trailers, so these are not the plants you should be growing at the beginning of the game. This chapter describes the cultivation process and the machines available for these plant species. Both plants require a ploughed field before planting. You don't store potatoes and beets in silos, but on the ground, preferably under the shed. Loading is done by using the belt system.
Sugar beet is easier and cheaper to grow than potatoes, but the profits generated by it are also smaller. To plant beets it is enough to have any planter and a ploughed field.
To collect beets from the field, a cheaper option will be to buy the Grimme FT 300, which you attach to the front of the tractor, and the Grimme Rootster 604, which is attached to the rear. Compared to potato harvesters, this one has no disadvantages - it's fast and reliable when it comes to its use by employees.
A self-propelled combine harvester, however, is comparatively more expensive, but also very efficient. In the Beet growing technology tab in the Vehicles section you will find as many as three models of combine harvesters: Ropa Panther 2,Tiger 6 XL and Holmer Terra Dos T4-40. They differ in the capacity and width of the headers. The headers can be found in the Beet growing technology in the following shop section: Tools. Each machine has a corresponding beet header. These combine harvesters work perfectly and reliably, and working with them is pure pleasure.
The additional machines you will find in the self-propelled harvester section are ROPA Maus 5 and Holmer Terra Felis 3. Don't get confused - they are not for harvesting beets, but only for lifting them from the ground. In other words: you can store the beets in the field - instead of driving the tractor behind the combine harvester, pour the crop directly onto the field. Then you can collect the crop in a semi-trailer using this machine in no time at all. However, this is a tool that is only used for a few hectares of fields.
Community content is available under
CC-BY-SA
unless otherwise noted.