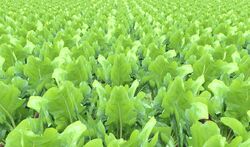 Sugar beet just like potato is generally an endgame crop that requires substantial investments in harvesting equipment. Fertilized sugar beet brings you 70,000 litres per hectare and half that if unfertilized. This crop does not produce straw.
Cultivation
Edit
Sow sugar beet seeds using suitable sowing machine;
Fertilize your field. This step is optional but strongly recommended as it will double the yield;
Remove tops with the Grimme BM 300 defoliator (not required if harvesting with the Grimme Maxtron 620);
Harvest with the Grimme Rootster 604 or the Grimme Maxtron 620 harvesters;
Plow or cultivate the field again to remove stubble from it, and sow anew.

Tip: It is better not to buy the beet harvesting equipment of the first tier because it does not work with hired workers help. It's recommended to wait until you can afford the Grimme Maxtron 620.